---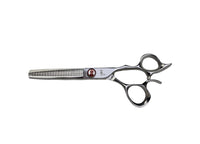 As a part of our signature line, the S-34T feels like an extension of the hand and offset handles allow the fingers to sit in a natural position. Add life, body and texture to your styles—this shear is designed for both finishing work and cutting close to the scalp. Each tooth is V-notched to allow smooth, snag-free cutting.
Convex edges | Triple hand honed | Extra hollow ground
Available in a 6.0" configuration with a 34-tooth wave pattern.