---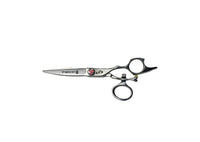 This 360º swivel thumb scissor allows for total manipulation of the shear while providing an ergonomic grip that prevents wrist pain. Control, performance and style—like driving a sports car. These shears have a straight shank which keeps the elbow down and promotes good posture. Durable alloyed stainless steel allow it to cut through all types of hair with ease. Convex edges, great for wet cutting and slide cutting.
Convex edges | Triple hand honed | Extra hollow ground
Available in a 5.5" configuration.